Frequently Asked Questions
General
Copyright
If you have any questions not listed above, feel free to contact us
How do I know you're not going to steal my script?
HollywoodScriptExpress.com is at heart a printing and delivery business for screenwriters, so that their material gets a fair chance in Hollywood by being presented in a professional, timely manner, whilst firmly adhering to the latest industry standards for submission and presentation.
We NEVER read any submitted materials and have absolutely no interest in your material's content whatsoever.
We are only concerned with quickly and professionally printing and shipping your screenplay. If you are worried about infringement, please read about U.S. Copyright / WGA screenplay registration.
Is using A4 really that different from US Letter?
Absolutely. A4 is metric based, much skinnier and significantly longer than U.S. Letter which is the industry standard and measures exactly 8 1/2 inches x 11 inches. The last thing you want is for your script to look out of place and amateurish sitting on a stack of properly formatted submissions.
Also, if they want to copy your A4 script it won't fit properly on US Letter unless it's shrunk but then your font will be smaller than the standard 12 pt and your margins will all be wrong.. which will really irritate the reader!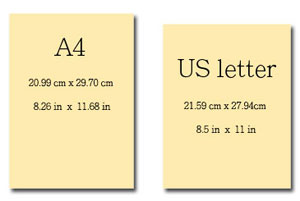 What's so important about using Solid Brass Brads?
Well, if you're in Europe, you probably don't have any idea what we're going on about, but rest assured, your script is doomed without them. Most overseas screenwriters cannot get these industry standard brass fasteners from your local office supply stores and so have to get them shipped over from Los Angeles to bind your scripts properly.. only to then mail them right back to Hollywood!
These are THE brads used by Hollywood studios, scriptwriters, and production companies, the legendary ACCO #5 Fastener. Using these brads tells the 'gatekeepers' that you 'know the turf'.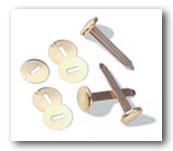 What file formats do you accept for script submissions?
Our preferred file format is Adobe® PDF but other accepted formats are:
Word: (.doc/.docx)
Rich Text: (.rtf)
Plain Text: (.txt)
Most script formatters have an option to save as/export to PDF or one of these formats. If your file is not in PDF format then it will automatically be converted to this after the upload and you will be able to verify that the conversion is acceptable.
Other requirements:
No Security: Please ensure your file is not encrypted or secured by a password
Mac Users: Please ensure your file has an extension i.e. myscript.pdf or myscript.doc
Page Size: US Letter is recommended
Maximum file size: 2MB
Can you recommend screenwriting software to professionally format my script?
Script Studio is the most powerful cross-platform software for screenwriters that helps you outline your story, structure your narrative, develop characters and professionally format your screenplay.
Download a free demo and give the program a whirl!
Are your online transactions secure?
Yes, all of our online transactions are handled by PayPoint through a secure and encrypted connection. Furthermore, when processing a payment, only you and PayPoint have access to your credit card information and as such, this information is not stored by us on or offline.
How secure are my files once they are uploaded to your servers?
When you upload your files they are immediately encrypted and stored behind a secure firewall on our servers which are backed-up daily. Once our Printing Partners have printed and shipped your script it is stored for future submissions or services but only you and our administration staff can access your material.
How do I get an Agent, Manager or Producer to read my screenplay?
To screenwriters this is right up there with "The Meaning of Life". Fortunately having recently climbed to the top of the mountain and spoken to the Guru of Screenwriting, we suggest you read: How To Get An Agent
An Agent called and wants to read my script - what should I do?
Don't just stand there! Race to your computer, log-on to HollywoodScriptExpress.com and SUBMIT your script for printing ASAP.
Time is of the essence: You want to follow up with this Agency or Production Company as fast as you can to keep them excited and more importantly to keep them from falling in love with other material in the meantime.
Speed is the key: This is why Hollywood Script Express exists! We're here to give screenwriters a fighting chance on the mean streets of Hollywood! Ideally, providing you with that crucial Edge Over The Competition!
Once you submit your script, our Printing Partners will immediately print & bind it and guarantee to have your work shipped from Los Angeles by the next Business Day… if not sooner! For urgent shipments, we also offer Overnight delivery and Same Day Courier!
Why can't I just send a PDF to the Agent and ask him to print it himself?
Because you'll look like an amateur who's already a pain in the butt by asking for favours - you're basically asking him to spot you the cost of the printing & binding and the time it takes either him or his assistant to do it!
Remember, at this stage in the game, you're chasing him, so show a little initiative. If all goes well, later in your career the tables will turn and they'll finally be chasing you! Revenge, my friend, will be oh, so sweet!
Also keep in mind that no one likes reading a script whilst sitting at a computer. Not the best environment for a relaxing evaluation. Ideally, you want that high-powered agent, manager or producer firmly planted poolside with a cocktail in one hand and your screenplay in the other.
Sending a Hardcopy will make you look like a pro!
I sent an Agency my script as they requested, but I still haven't heard anything back - what should I do?
Give the company some time. This is the biggest thing in your life, but to them, it's just another day at the office. Give them about 4 – 8 weeks before following up with a second letter or email. I wouldn't recommend calling until you've established a relationship. If you still don't hear anything after that, you should assume they have passed and that the material is just not right for them at the moment. Once again, don't take rejection personally.
You have to have thick skin to survive in this cut-throat game.
Just pick up that paper and pen - alright, keyboard - and write another letter to a different company. If the rejections start to pile up on a specific project, then consider a rewrite of the script. Perhaps write back to one of the agents that passed and ask them for feedback. Most likely a junior agent or assistant was the one who actually read your script and often they will send you their coverage or notes so that you can improve your project.
Occasionally you'll find that they'll offer to read a rewrite or encourage you to contact them when you have a new script ready to go.
Remember, never burn a bridge in Hollywood.
Your worst enemy can one day become your best and most lucrative friend.
Tip: If you do write a new draft and take it back out to market, a good trick to improve your odds of a re-read is to change the title of the new draft to prevent it from being flagged by the agency's submission log as already having been read/covered.
If I lose my original script file can I access it via HSX?
Yes, the orginal file you uploaded is always available to you to view, unless you choose to delete it.
Can I update my script file after submission?
No, your uploaded file is stored for future submissions since Submission Tracking only works if the stored file is the actual file shipped.
If you revise your work and wish to re-submit it you will need to create a new order, even if it is going to the same destination as in the original order. This is advisable to ensure the integrity of your submission tracking so you can always be sure of what exact version was shipped where and when.
How does your service differ from that of The US Copyright Office?
Although copyright protection exists at the moment of creation, only The US Copyright Office can issue a formal copyright, and registration with the Copyright Office is required before a lawsuit can be brought. Because of this we advise all our clients to file their work with the US Copyright office but this process can take up to six months to complete so our service exists not only to give you the added peace of mind that your work has been digitally timestamped upon submission but to offer you Submission Tracking Tools, independently recording what projects were sent where and on what date.
Waiting six months while your US Copyright Application is being processed is not practical so registering your work with us allows you to market your material, safe in the knowledge that HSX has recorded the submission of your work. You should also always save all correspondence with anyone you send your work to, whether through HSX or a third party. Even rejection letters can be important evidence in an infringement case.
How does your service differ from that of the WGA?
We offer exactly the same protection as the Writers Guild of America's registration service. You get encrypted, secure timestamped file storage with a unique registration number and certificate and in the event of litigation or arbitration we'll provide independent documentary evidence on your behalf.
Can my registration be renewed?
Yes, you can renew for five more years within three months prior to expiration and up to one month after expiration. The responsibility to renew a work rests with its author but we may send you an email reminder as the expiration date approaches at which time you will be able to pay for renewal online. If you do not renew then you authorize Hollywood Script Express to destroy your file without further notice to you on the expiration date.
Can I update my script file after copyright registration?
No. The primary purpose of our registration service is to establish the completion date of your script. Once it is registered, the uploaded file cannot be modified in any way since this would invalidate the original registration. In reality, new screenplay drafts only need to be registered if there have been significant and unique changes to the content since the original registration.
Can I upload multiple files for a single registration?
No. Each registration covers a single file/script. If you wish to register multiple scripts then you will need to register them individually in order to receive a unique registration number and certificate for each piece of work.
What happens if I am involved in litigation proceedings?
In the event of litigation or arbitration we will provide independent documentary evidence of your registered work on your behalf.